✉️ You can email your image after ordering if its easier :)
Showcase your gaming skills and show off your design skills with this awesome Custom Mousepad!!

Do you love playing games? Why restrict yourself to small mass-produced mousepads? Customise your gaming space. We produce custom mousepads that are the perfect size and shape for your desk space. Our desk mats are made of high-quality materials so you can rely on them for many years to come. You'll love the convenience of having a personalsed mouse mat right next to where you spend most of your time.

These unique and durable mousepads make your mouse movement smoother and more responsive. A peripheral like this is a huge statement, and a life-changing experience, to say the least, as you'll never return to using small mouse pads after trying this one! With our design tool, you can create your favourite Mousepad. Let's explore your imagination..

● Made of high-quality fabric
● Great gift for Gamers
● Natural Non-slip Rubber Base
● Super Easy to clean
● 60x35cm = 600 x 350mm (23.6 x 13.8 Inches)
Regular price
Sale price
$26.00 USD
Unit price
per
Sale
Sold out
🚚 Free Shipping Australia Wide
⭐ 4.9 Average Reviews (50+)
View full details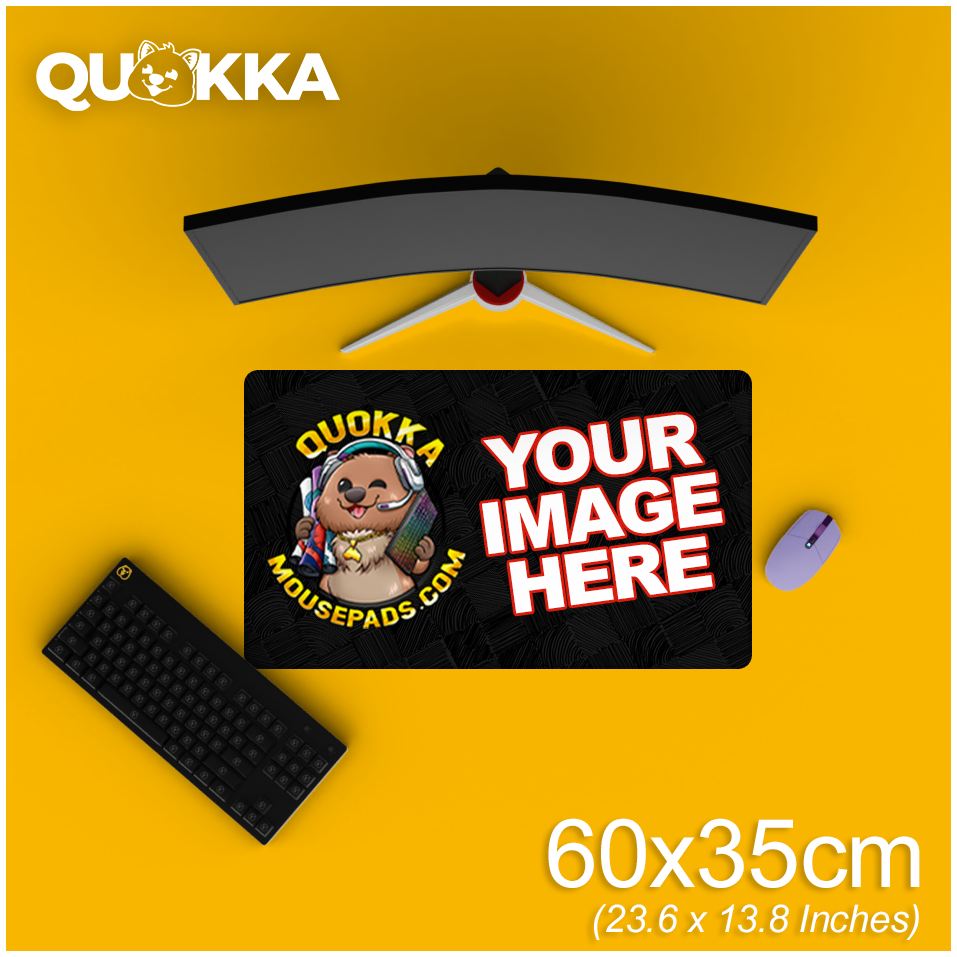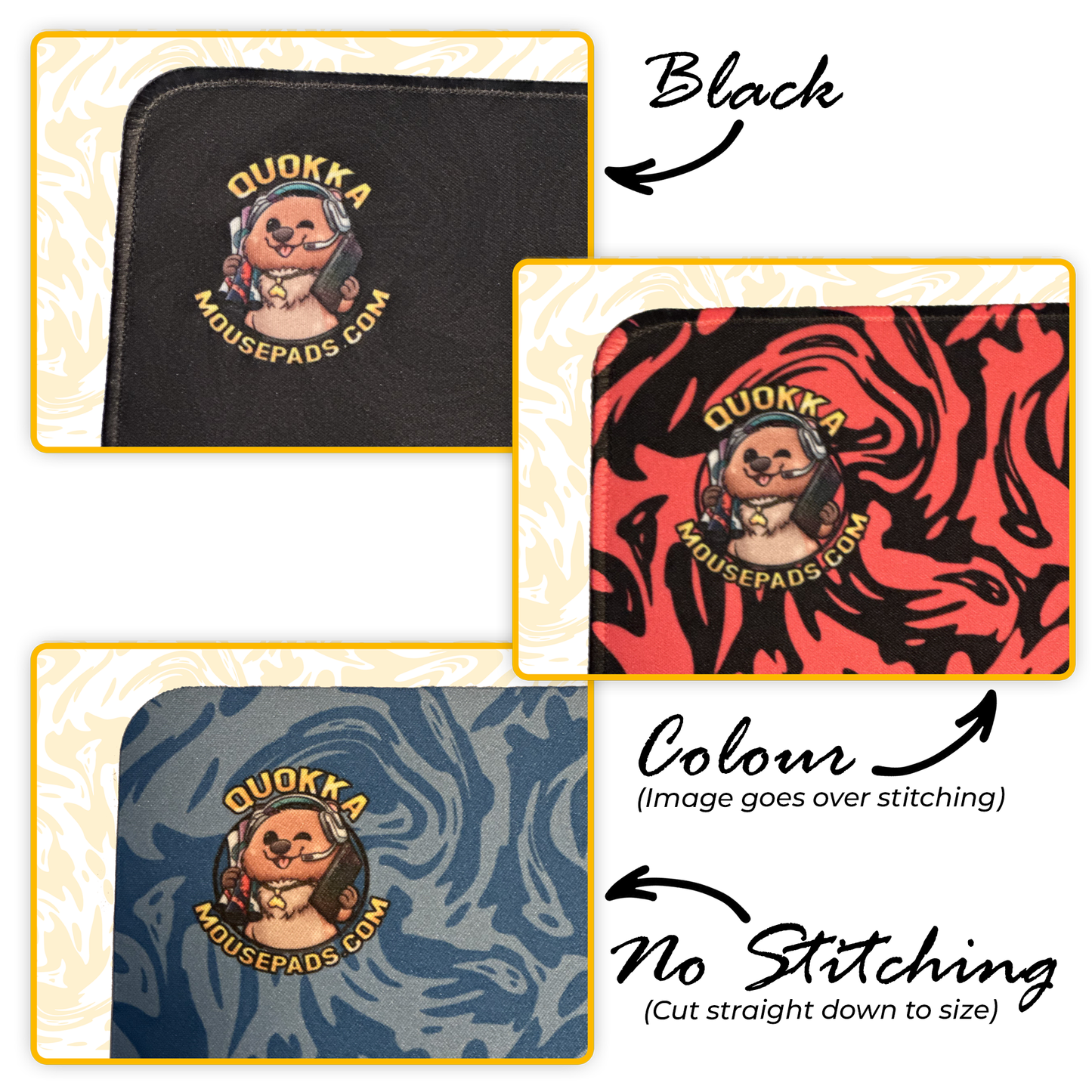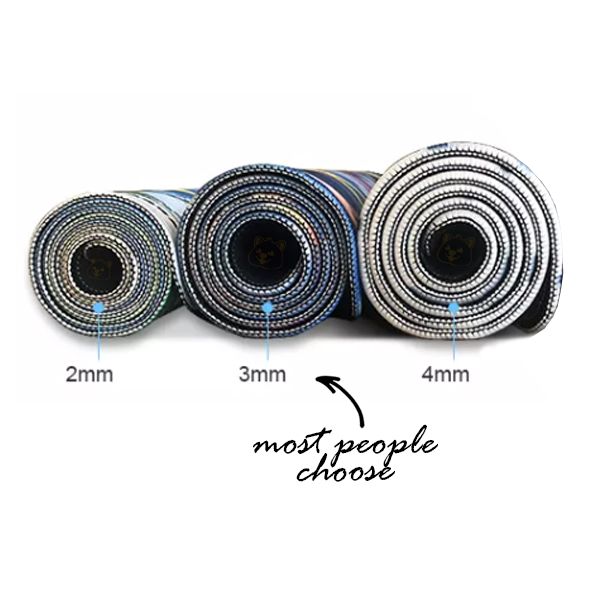 Product Information
Materials & Care Instructions

Our mousepads are made of Multispandex Cloth and have a Rubber non-slip back.

‎

Machine Washable: If you spill a drink or somehow get food on it you can simply toss it in the washing machine and air dry! For the longest lasting image we recommend hand soaking in cold, soapy water and letting it air dry.

Dimensions

220x180mm (8.6 x 7 Inches)
600x300mm (23.6 x 11.8 Inches)
600x350mm (23.6 x 13.8 Inches)
600x400mm (23.6 x 15.7 Inches)
700x300mm (27.5 x 11.8 Inches)
700x400mm (27.5 x 15.7 Inches)
800x300mm (31.5 x 11.8 Inches)
800x400mm (31.5 x 15.7 Inches)
900x400mm (35.4 x 15.7 Inches)
1000x500mm (39.4 x 19.5 Inches)

1200x600mm (47.2 x 23.6 Inches)

Image Size Guidelines
Frequently Asked Questions
Where do I upload my image?

Scroll back up and click on the mousepad main image, it will open up the Upload Feature in the app. You can then position your image how you'd like it printed.

If that feature doesn't load for you for some reason, just know we will confirm the print with you before printing if the dimensions don't match what you ordered. To get us the image you can;

Email the image to us - sales@quokkamousepads.com
Leave a dropbox/Google Drive link in your order notes
Telepathically tell us what you want and we'll totally know what you want.

Okay, the 3rd option is a joke but please do reach out if you have any questions at all! We have email, phone and live chat available!
How do I clean my mousepad?

1) Fill a bowl or tub with cold water and soak your mousepad.
2) Scrub your mousepad with a soft bristle brush.
3) Rinse away the soap using cold water, making sure there are no suds on the front or back.
4) Pat your mousepad dry with a towel.
Can I put my mousepad in the washing machine?

You can machine wash but we recommend hand washing it. The image will last longer if you hand wash it!
Can you sponsor me?

We get this question a lot. We're always looking for creators, brand or groups to work with. Please contact us and include as much information as possible. With most of our attention on helping customers, we only have time to reply to a few of these. Thank you for understanding :)
What size image do I need for a custom mousepad?

If you're creating the image from scratch, please make it 300 DPI

For the pixel size, ideally all images are more than 2000px wide. This is to achieve the best possible print quality and not have the finished product looking blurry or faded. We also have a full list of recommended pixel dimensions for each size, available on our Size Guide page.
What stitching/edges should I choose?

The choice is YOURS based on preference. The price is the same for each edge style!

Black Stitched: The stitching is black, the printed area stops at the start of the stitching.
Colour Stitched: The mousepad is stitched first then printed over it, so your image goes all the way to the edge, over the stitching.
No Stitching: The edges are cut straight down after printing so the printing goes to the edge.
What thickness is good enough for me?

Here is a rough run down of each size, please see the Size Guide page for a full breakdown of pros of each.

2mm Thickness

The best economic choice for new gamers or casual office workers

3mm Thickness

The most common choice, great balance between the highest quality and the cheapest option

4mm Thickness

The Crème de la crème of mousepad thickness, perfect transition from stitching to pad
Are there any Images you won't print?

Yes, we will NOT print anything relating to:

Racism
Anti-LGBTQ+
Antisemitism and Nazi Imagery 
Sexualised Child Imagery
Human Naked Imagery
Beastiallity
How long does it take to print the mousepads?

Most of our mousepads are printed as they are ordered. Limited stock is held locally in Perth, usually 90x40cm of specific designs.

Printing is done in our Chinese partner factory and shipped directly to you

Current average printing time: 4 days (including weekends)
How long does shipping take after I order?

After we print the mousepad (avg 4 days) we will ship it out ASAP. Shipping can take anywhere between 7 days and 30 days depending where you live. We average 10 days delivery (after printing)
Do you ship internationally?

Yes, we do! While we'd love to ship to 100% of the countries in the world, we are unfortunately limited to our shipping partners at present. We do ship to Australia, New Zealand, United States, United Kingdom, Canada, and more
Do you have an affiliate program available?

Yes, we do! You can sign up here and create your own affiliate code. This code will earn you 10% of all sales when used. The code will allow your audience/friends to get 15% off the listed prices, so everyone wins!
Christopher P. (QLD) ⭐5

Second to none quality
"This mat is absolutely beautiful. The custom artwork pops like I didn't expect, it isn't fuzzy, and (I use this as a TCG playmat) cards are easy to pick up and slide. The stitching is beautifully integrated so it isn't raised. Fantastic job, Quokka. You have my recommendation on several TCG pages in Australia. I'll be a repeat customer for sure."

8 Nov 2023

Tom A. (WA) ⭐5

Huge Mousepad/Break Mat

"The quality is great and print is very high def with no bleeding. See how it holds up but looks like a perfect card breaking mat for CardEx."

6 Nov 2023

JRJ_eatsfaces ⭐5

No complaints
"It is exactly what i ordered, how i ordered it. Good quality, good resolution, good stitching, good print quakity, akd the free stickers help too"

29 Oct 2023

Daniel P. ⭐5

Definitely my Favourite Mousepad
"Purchased the "Japanese Oni Demon Mask "Game" Design Mousepad Deskmat" Just over a month ago, after needing to downsize from the larger one I had, The fabric is still amazing, the Design/Print is amazing. Definitely worth every cent!"

28 Sep 2023

Marc (NSW) ⭐5

A quality product in a crowded space
"There are a lot of printers of desk mats and mouse pads and such, and to be honest I just took a chance on Quokka, getting a 100x50cm desk mat printed. But they were communicative from the start, transparent about the process (eg. expected delivery times based on experience), and the uploading of a photo to be printed on my desk mat was easy as pie. It arrived within their timeframes and the quality of the material (stitched edge, non-slip back, surface feel of material) and the quality of the printing seems pretty high - certainly I am more than satisfied with it. It was also a gift, and the recipient is thrilled. If I have further need I would definitely order from them again - the price is good, the quality is better."

14 Sep 2023

Jacob I. ⭐5

The best custom mousemat
"Cheap, great communication, fast arrival, great quality. I would recommend quokka mousepads for anyone looking for a custom mousepad"

6 Sep 2023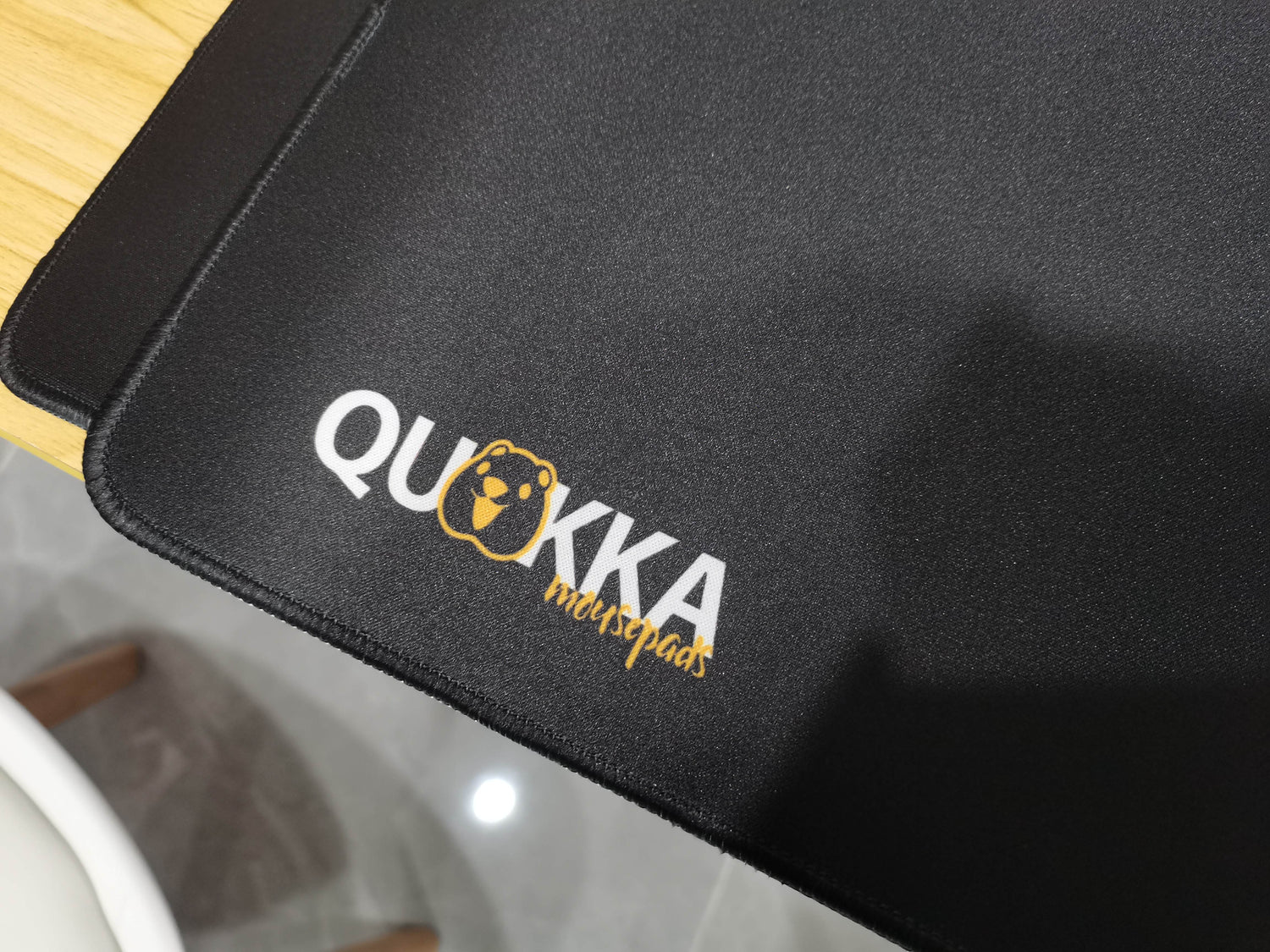 SUPERIOR GAMING SURFACE
Insanely grippy rubber base and overlocked stitching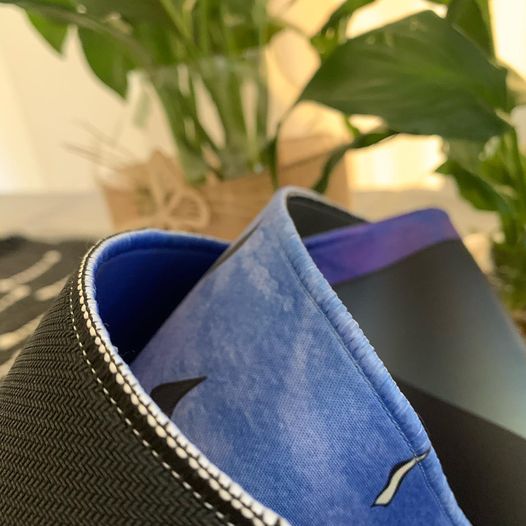 NO-FRAY EDGE STITCHING
Experience the ultimate in comfort and durability with our low-profile stitched edges that effortlessly glide over your skin without causing any discomfort. Our mousepads are meticulously crafted with overlock stitching using high-quality nylon threads, ensuring exceptional resistance to fraying. You'll appreciate the impeccable craftsmanship and consistent stitching that adds a touch of elegance to your workspace.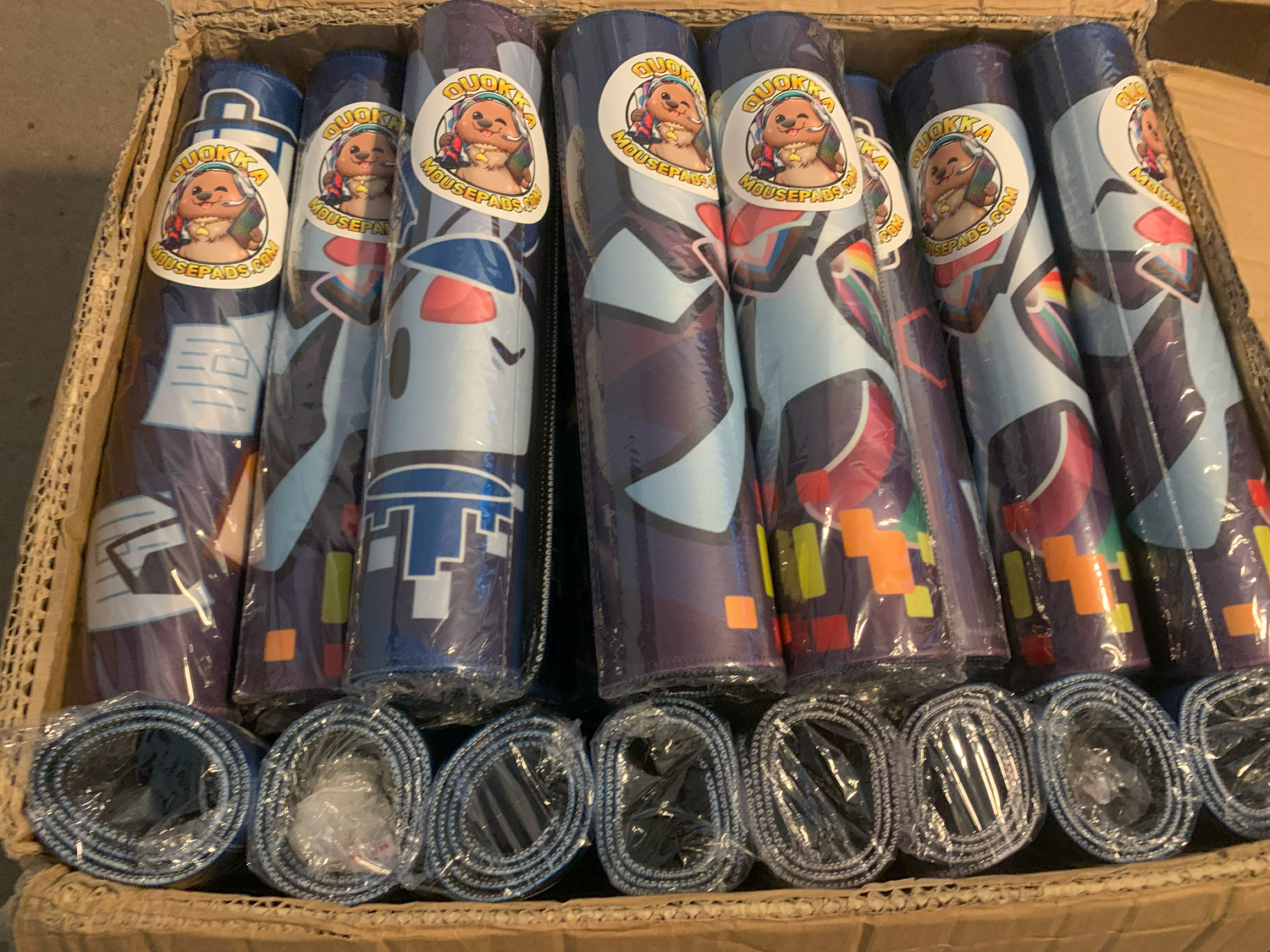 Wholesale deskmats and mousepads
We take pride in being the trusted choice for businesses of all sizes. Our commitment to fulfilling large orders is unmatched because we understand the vital importance it holds for our clients' success.
Wholesale Pricing
Free Shipping

We can ship anywhere in Australia, city or country. Express shipping can very depending on location.

Support Australian charities